Our colleagues drive our success every day by leading change and delivering results. With a workforce of approximately 170,000, people truly are our greatest strength, and we are committed to attracting and retaining talented people around the world who can help build our company to last.
"Dreaming big is in our DNA. Through hard work and the strength of our team, we can achieve anything."
Constantly driving towards a better future
Our people are curious, bold and resilient. We see challenges as opportunities and are excited by the possibilities they offer. We are constantly learning and growing. We recruit, develop and retain people who have the potential to be even better than ourselves. We know that through hard work and the strength of our team, we can achieve anything.
Dream
Our shared Dream energizes everyone to work in the same direction: Bringing people together for a better world.
People
Our greatest strength is our people. Great people grow at the pace of their talent and are rewarded accordingly.
We recruit, develop and retain people who can be better than ourselves. We will be judged by the quality of our teams.
Culture
We are never completely satisfied with our results, which are the fuel of our company. Focus and zero-complacency guarantee lasting competitive advantage.
The consumer is the boss. We serve our consumers by offering brand experiences that play a meaningful role in their lives, and always in a responsible way.
We are a company of owners who take results personally. We lead by example and do what we say.
We believe common sense and simplicity are usually better guidelines than unnecessary sophistication and complexity.
We manage our costs tightly, to free up resources that will support sustainable and profitable top-line growth.
Leadership by personal example is at the core of our culture. We do what we say.
We never take shortcuts. Integrity, hard work, quality and responsibility are key to building our company.
Brewing careers to last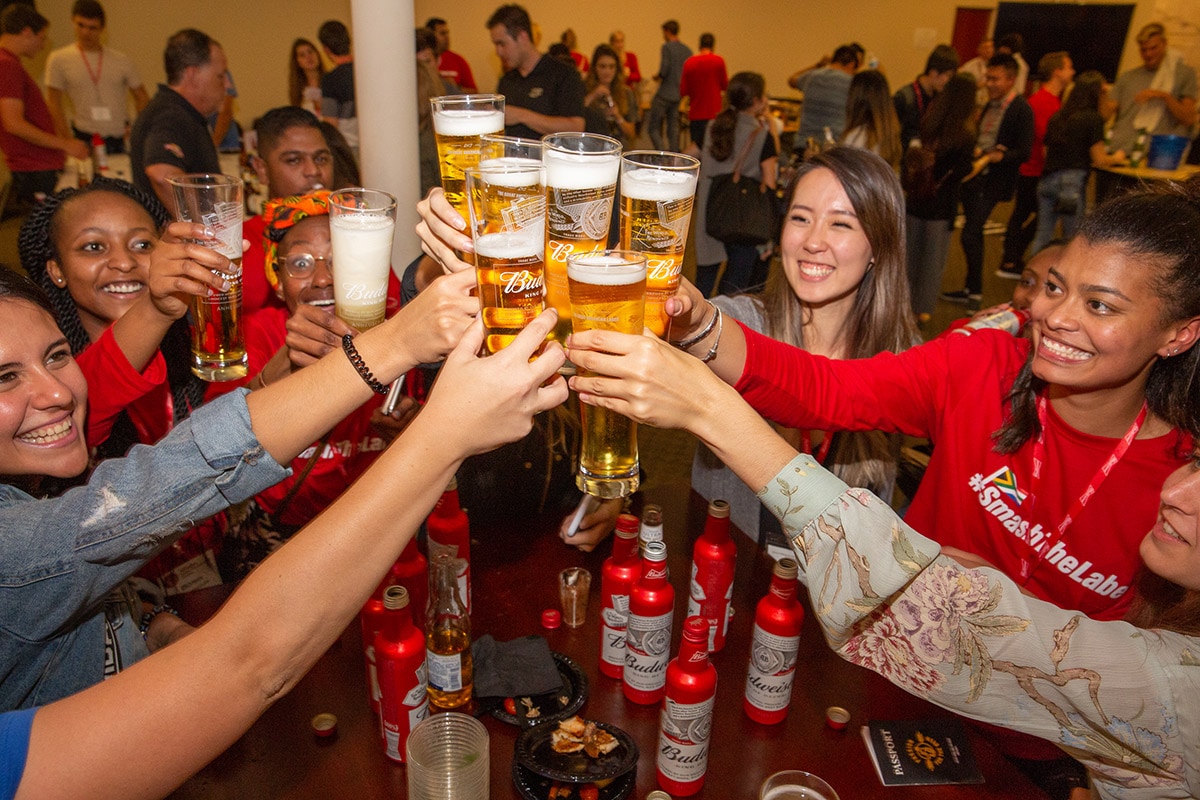 As a company of owners, we encourage our colleagues to take on new experiences and explore new places leading to fast career growth and early leadership.
One of our expedited paths is through our Global Management Trainee (GMT) Program which takes driven university graduates through a 10-month rotation that offers in-depth exposure to our business operations and global projects. In addition, our one-year Global Management Business Administration (GMBA) program lets graduates experience the operations of several Zones, provides exposure to global leaders and offers an opportunity to develop impactful projects in the business.
The class demographics of our GMT and GMBA programs exemplify our focus on bringing in diverse talent and improving gender parity. Our 2019 GMT class was made up of 55% men and 45% women, including participants from 35 different nationalities. Our 2019 GMBA class was made up of 56% men and 44% women, including participants from nine different nationalities.
Measuring employee engagement
In order to encourage continued motivation and a culture of ownership, as well as reduce turnover, improve productivity and create more overall employee satisfaction, we place a strong emphasis on employee engagement. This starts with measuring engagement to identify gaps and then building initiatives to improve engagement moving forward.
In 2019, our people's satisfaction and sense of pride in working at AB InBev strengthened. While our results are above the Willis Towers Watson Food & Beverage benchmark for employee engagement, we take engagement seriously and are never completely satisfied with our results. To that end, we will continue investing in improving our people's experience.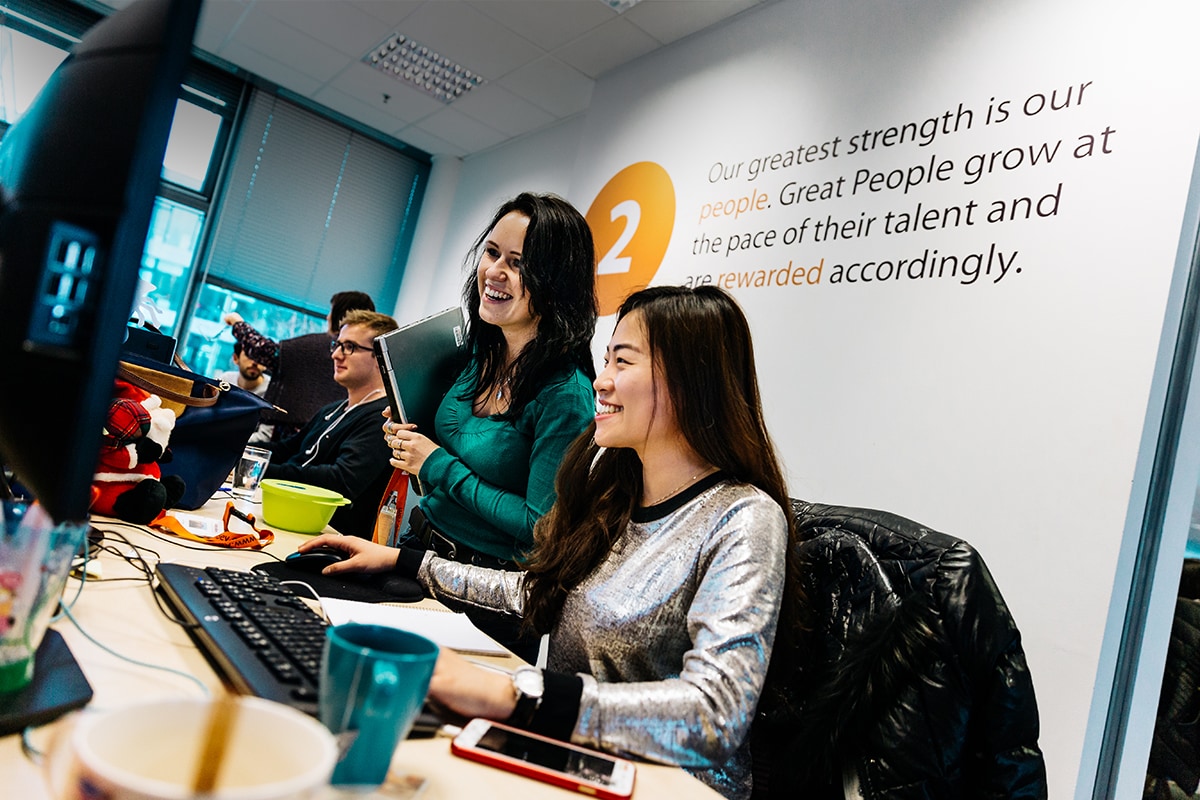 Diversity & inclusion
105+
nationalities

around the world
We are committed to a work environment that is both diverse and inclusive, where all colleagues feel respected and empowered to bring their authentic selves to work every day.
With 105+ nationalities represented across our company and 55 nationalities represented in our Global Headquarters, we have a unique opportunity to attract talent from many different backgrounds. We strongly believe that a diverse and inclusive workforce helps us develop stronger ideas and deliver results, putting us in a better position to understand and serve the needs of our global consumer base.
Our policies and initiatives strive to create greater diversity and provide all colleagues with a fair and equal chance to succeed. We recognize that this takes commitment, hard work and time and we are dedicated to our progress.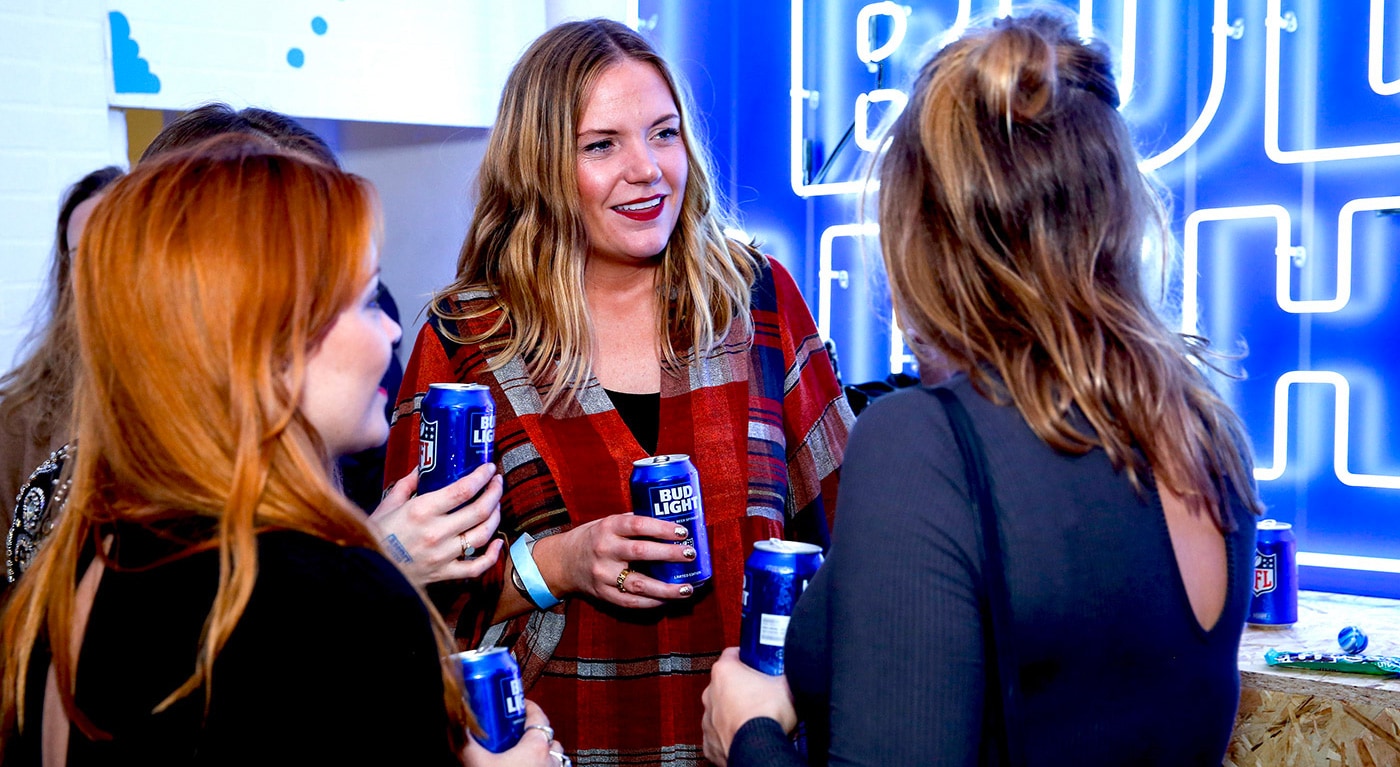 Exploring ways to advance gender equality
Currently, 31% of our salaried workforce are women (+3pp since 2016), with 22% female representation among our partners (+5pp since 2016). We know that we have gaps to fill and are working to advance our progress. In 2019, 36% of the new hires in our salaried workforce were women.
To further advance gender equality, we joined the LEAD Network in Europe as a Gold Level Partner. Our initiatives to empower women were recognized as a case study in the 2019 McKinsey Women in the Workplace report.
In Argentina, our local company Quilmes received an award from UN Women for being one of the first companies in the country to accomplish the action plan that they built as part of our commitment to the UN Women's Empowerment Principles.
31%
of women in salaried

workforce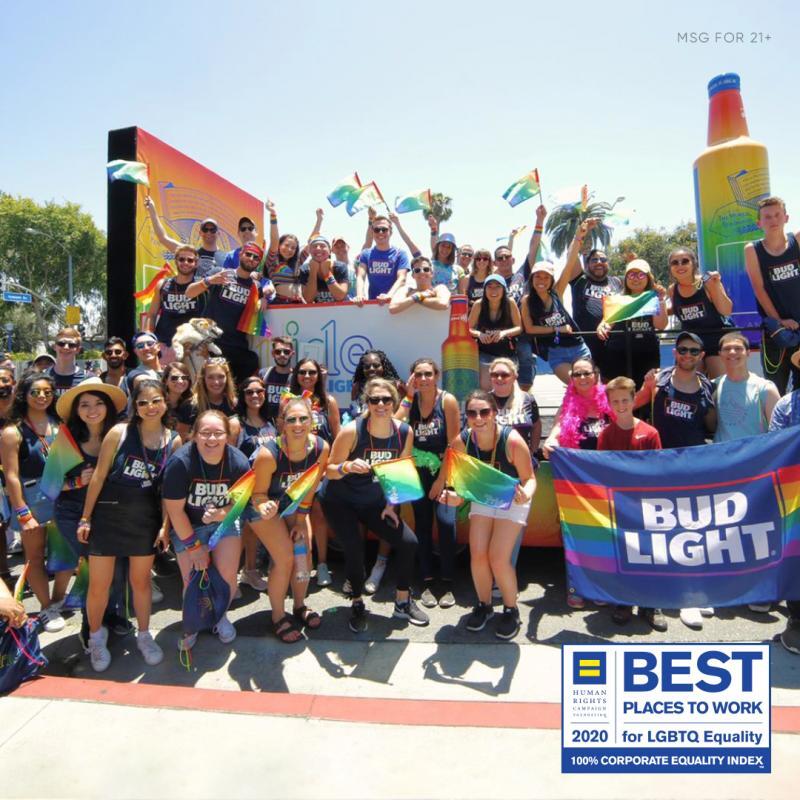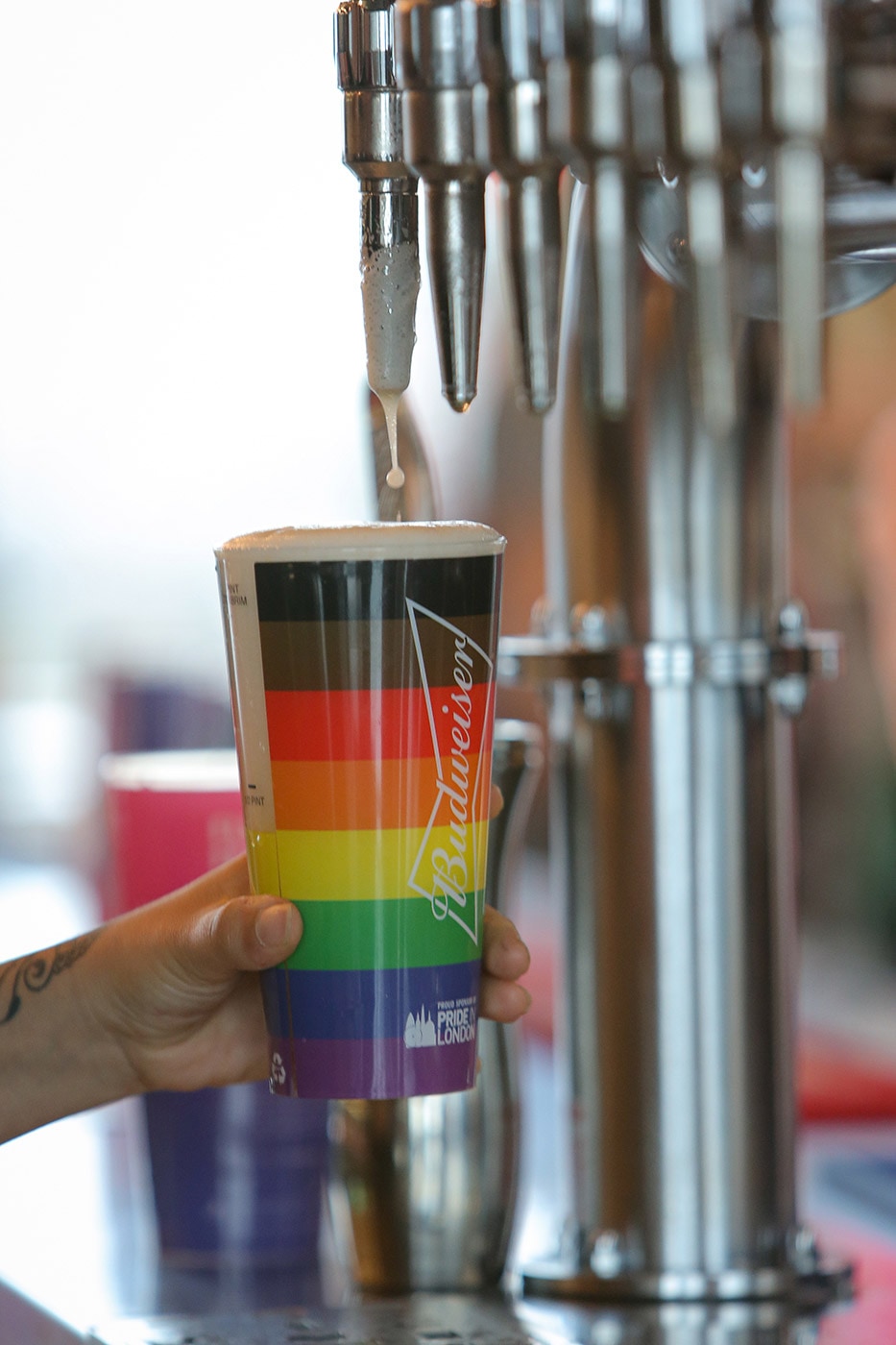 Celebrating Pride & supporting LGBTQ+ issues
The global reach of our brands gives us significant opportunity to drive positive change in culture. In 2019, we celebrated LGBTQ+ Pride in more than 10 countries around the world. In the US, Bud Light released special edition rainbow bottles, with proceeds going to the Gay & Lesbian Alliance Against Defamation (GLAAD). Our SKOL brand in Brazil partnered with Pantone to create a rainbow pack of cans, the UK activated with a Budweiser campaign to raise awareness of all groups under the LGBTQ+ umbrella, and our Victoria brand in Mexico ran a campaign honoring the Las Muxes community of transgender women. In South Africa, we sponsored Pride in Johannesburg for the first time and participated by marching in the parade.
On the International Day Against Homophobia, Biphobia and Transphobia (IDAHOBIT), colleagues from our LAGER LGBTQ+ community in the US created a video for the "It Gets Better Project" about their personal coming out stories. Additionally, we worked with the Stonewall charity in the UK and Ireland as a Diversity Champion, to ensure that all our LGBTQ+ colleagues are accepted in the workplace.
We are proud to have earned a 100% score on the Human Rights Campaign Corporate Equality index for the past five years in the US and a 100% score on the Human Rights Campaign Equidad MX index for the past two years in a row. We also participated in the South African Workplace Equality Index for the first time this year.
Committing to more inclusive marketing
We use the power of our brands to drive impact and encourage social change in our company and our industry. In 2019 this was demonstrated with our involvement in the #SeeHer movement in the US, which aims to deliver a more accurate portrayal of women and girls in advertising and media. We kicked off our partnership with a #SeeHer Bootcamp that reviewed our advertising campaigns for unconscious bias, immediately putting our findings to use by integrating #SeeHer tip sheets into our creative effectiveness program and introducing monthly meetings with our brand teams to provide feedback on direction.
Additionally, we partnered with the Alliance for Inclusive and Multicultural Marketing (AIMM) on their industry-wide #SeeAll movement to drive representation of multicultural and inclusive demographics in ads.
To begin bringing more diversity to depictions of beer in marketing, our US Craft Brewer's Alliance created a library of stock photos that feature gender, racial and ability diversity and are free for anyone to download on photo websites Pexels and Unsplash.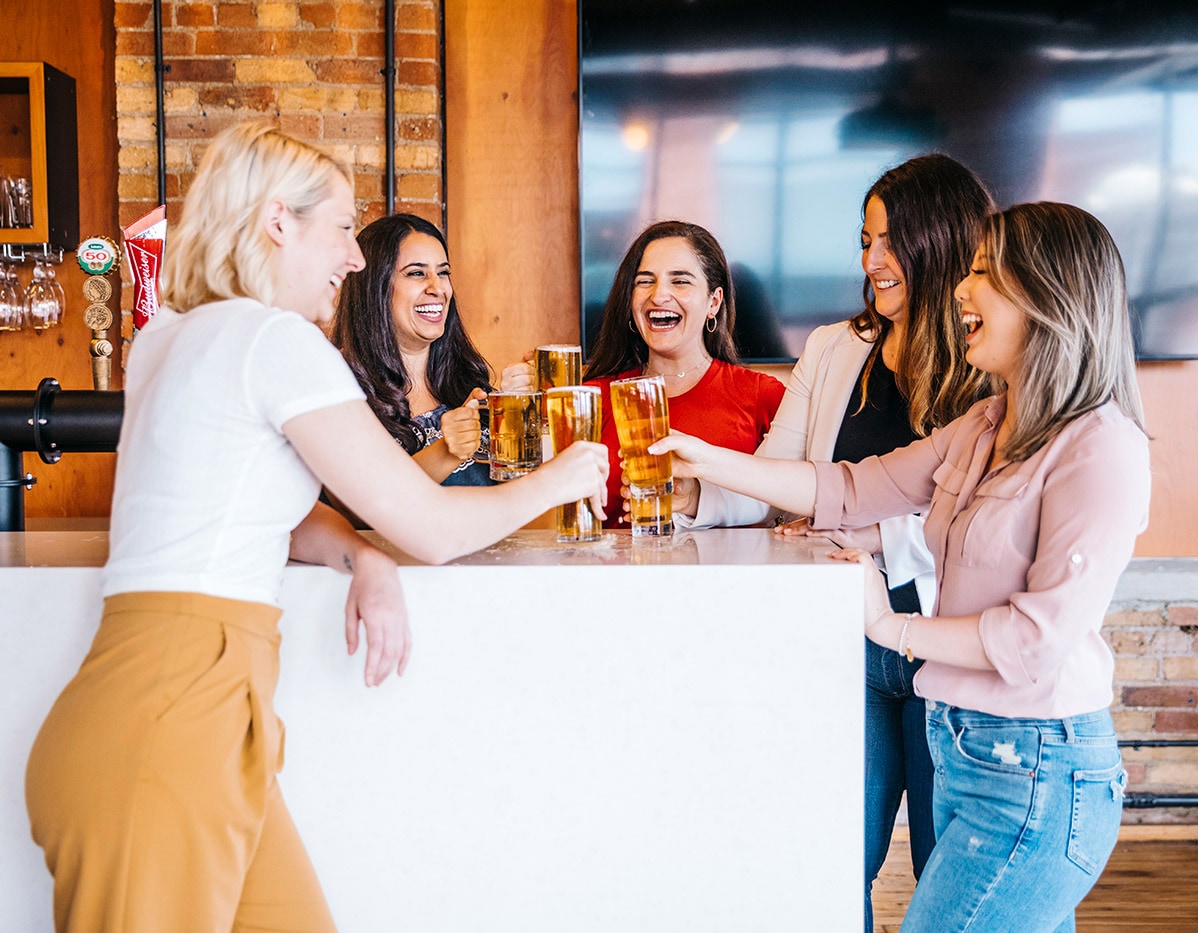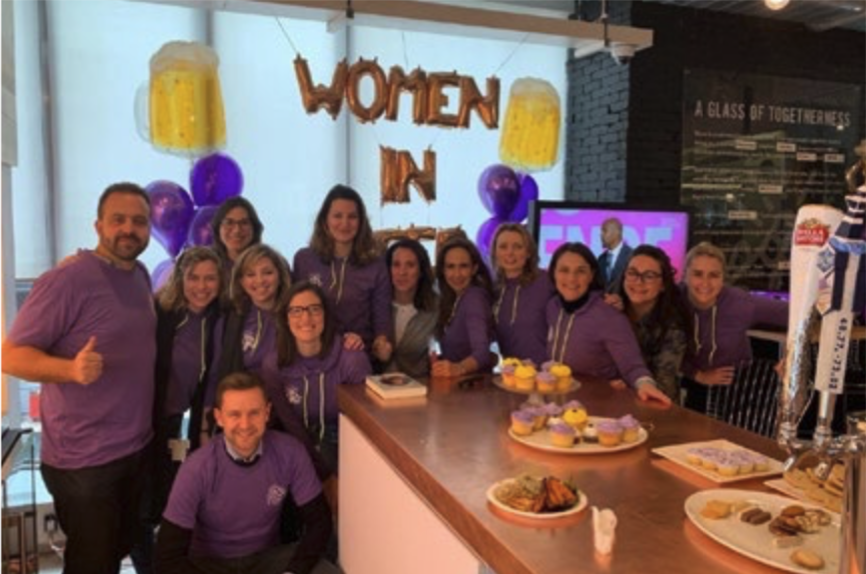 Championing female athletes to challenge social barriers
Budweiser has been a sponsor of the US Women's National Soccer Team for more than 30 years. We continued our support during their 2019 World Cup championship bid, and also became an official partner of the England Women's Football Team in March 2019. In July, Budweiser became the first official beer sponsor of the National Women's Soccer League (NWSL) in the US. These partnerships aim to help drive real change by breaking down social barriers and perceptions and showcasing the value in rallying behind female athletes.
Focusing on diversifying our talent pool
To help attract and retain diverse talent, we partnered with organizations whose purpose is rooted in connecting diverse candidates to the workforce. We joined the AdFellows program in the US, which is designed to help diverse candidates break into marketing and advertising. We began working with the Forte Foundation, which aims to change the balance of power in the workplace by opening doors for women. We also were a sponsor of Management Leaders for Tomorrow and continued our work as a sponsor of the Reaching Out MBA Conference for the third year in a row.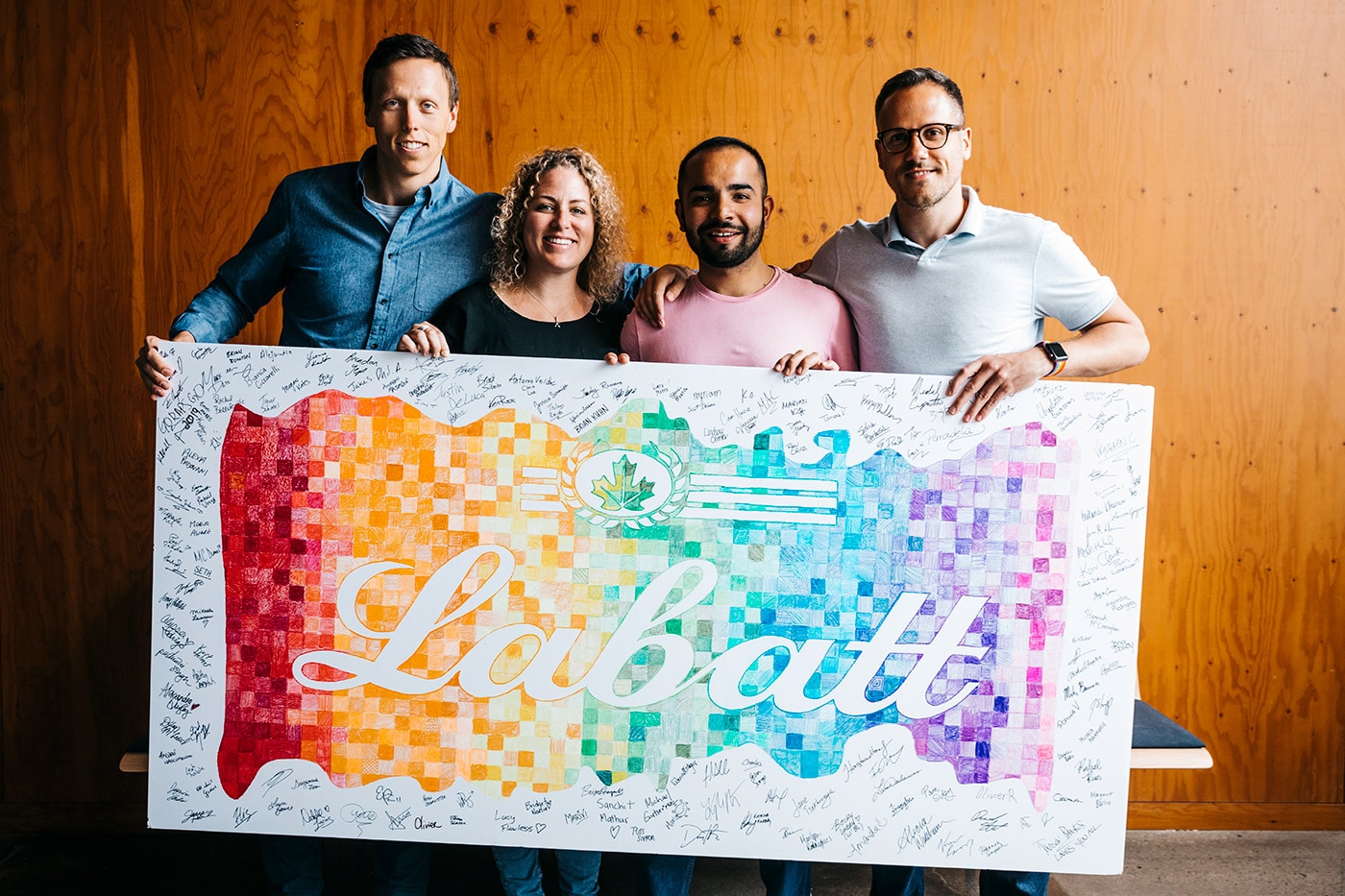 Creating a more inclusive and safe work environment
In late 2019, South African Breweries continued to take action against gender-based violence with Carling Black Label #NoExcuse campaign. As part of the 16 Days of Activism they launched a Domestic Violence Leave Policy to support colleagues who are victims of physical, sexual or psychological violence and abuse. The policy will make it easier for people to report and seek assistance when experiencing or recovering from domestic violence. Colleagues can make temporary adjustments at work as needed and receive referrals to specialists and counseling, where available.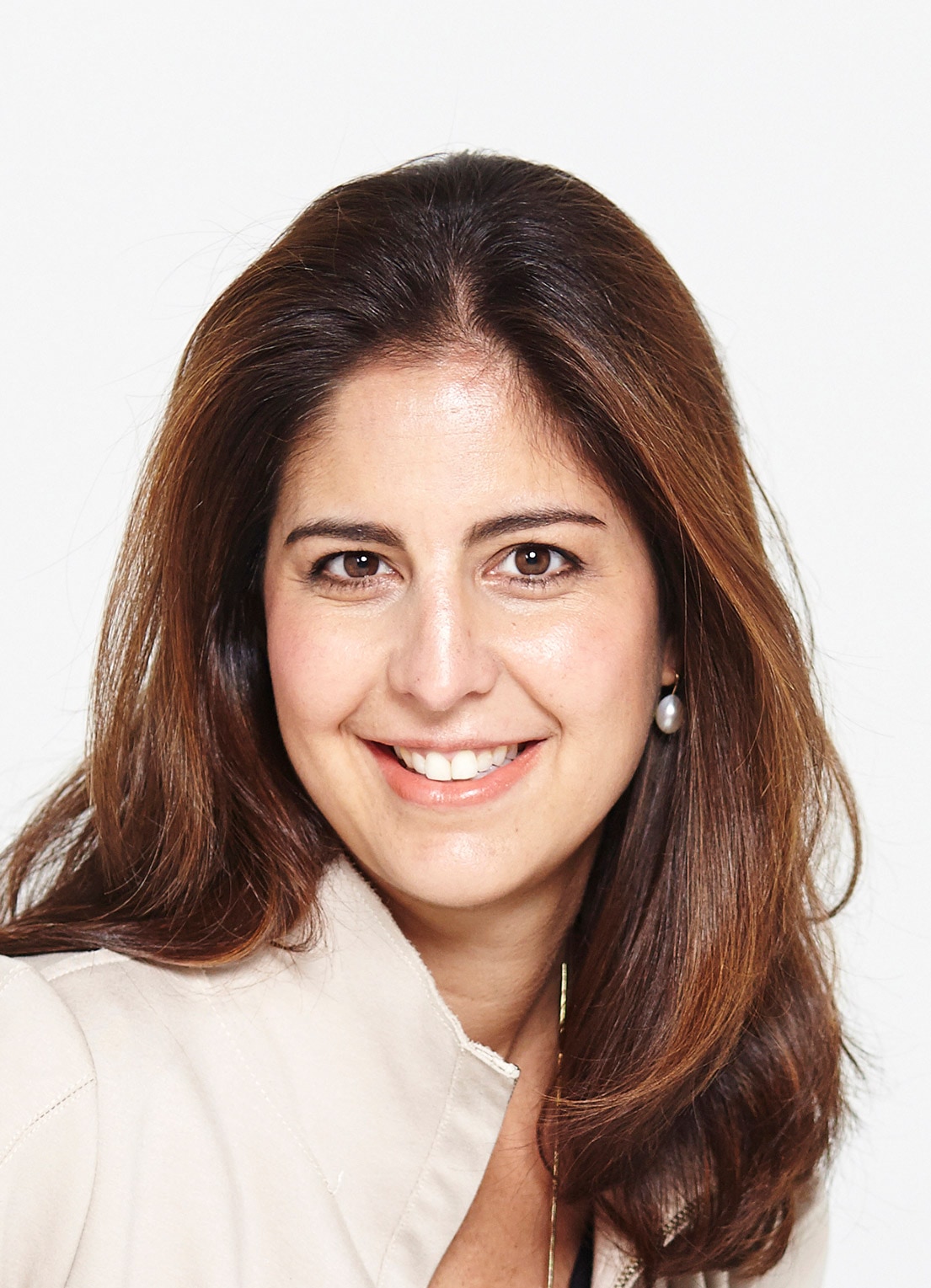 "When it comes to our beers, we are committed to promoting our brands in a balanced way. Beer is a great social equalizer, so it's imperative for us to be inclusive."

Paula Lindenberg President of AB InBev UK & Ireland